BIG DATA HADOOP
- SPARK CERTIFICATION TRAINING
Certification
After the completion of the course, you will get a certificate from IBM.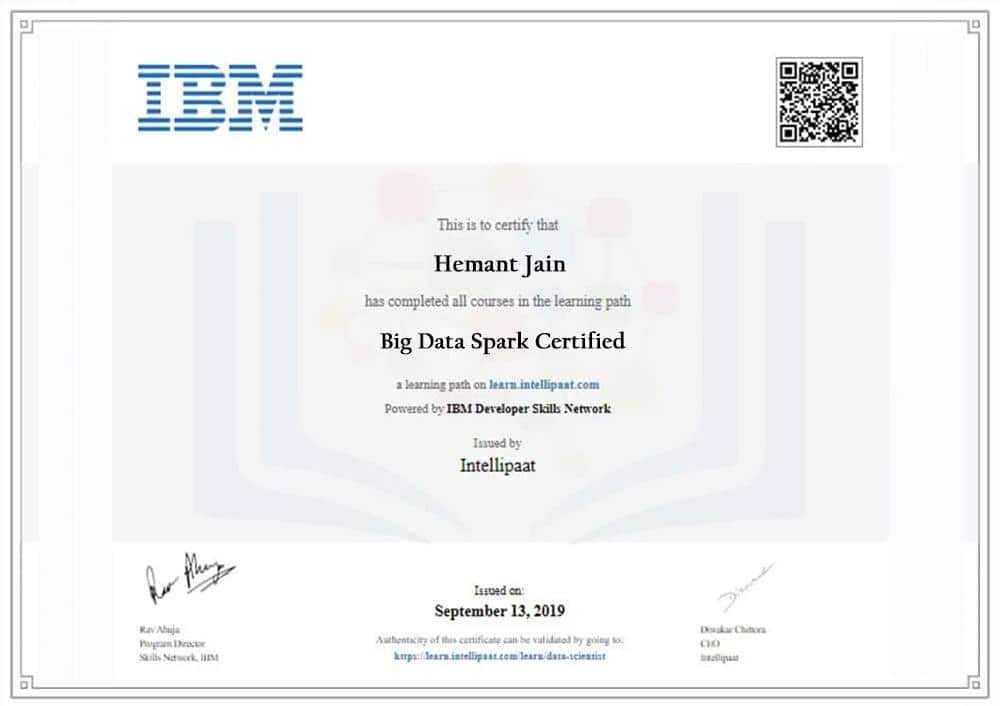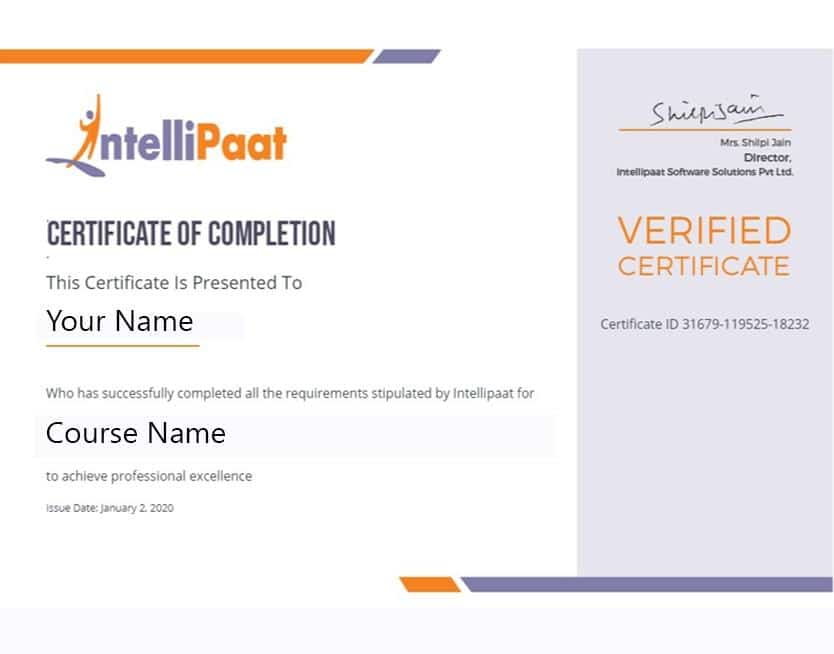 About BIG DATA HADOOP- SPARK TRAINING
Intellipaat's Big Data Hadoop training program helps you master Big Data Hadoop and Spark to get ready for the Cloudera CCA Spark and Hadoop Developer Certification (CCA175) exam, as well as to master Hadoop Administration, through 14 real-time industry-oriented case-study projects. In this Big Data course, you will master MapReduce, Hive, Pig, Sqoop, Oozie, and Flume and work with Amazon EC2 for cluster setup, Spark framework and RDDs, Scala and Spark SQL, Machine Learning using Spark, Spark Streaming, etc.

IBM is one of the leading innovators and the biggest player in creating innovative tools for Big Data Analytical tools. Top subject matter experts from IBM will share knowledge in the domain of Analytics and Big Data through this training program that will help you gain the breadth of knowledge and industry experience.
Benefits for students from IBM
Industry-recognized IBM certificate
Access to IBM Watson for hands-on training and practice
Industry in-line case studies and project work
Global Hadoop market to reach US$84.6 billion in 2 years – Allied Market Research
The number of jobs for all the US data professionals will increase to 2.7 million per year – IBM
A Hadoop Administrator in the United States can get a salary of US$123,000 – Indeed
Big Data is the fastest growing and the most promising technology for handling large volumes of data for doing Data Analytics. This Big Data Hadoop training will help you be up and running in the most demanding professional skills. Almost all top MNCs are trying to get into Big Data Hadoop; hence, there is a huge demand for certified Big Data professionals. Our Big Data online training will help you learn Big Data and upgrade your career in the domain.
Who should take up this course?
Programming Developers and System Administrators
Experienced working professionals and Project Managers
Big Data Hadoop Developers eager to learn other verticals such as testing, analytics, and administration
Mainframe Professionals, Architects, and Testing Professionals
Business Intelligence, Data Warehousing, and Analytics Professionals
Graduates and undergraduates eager to learn Big Data
BIG DATA HADOOP COURSE CONTENT
Following topics will be available only in self-paced mode:
Big Data Hadoop Course Projects
Working with MapReduce, Hive, and Sqoop
In this project, you will successfully import data using Sqoop into HDFS for data analysis. The transfer will be done via Sqoop data transfer from RDBMS to Hadoop. You will code in the Hive query language and carry out data querying and analysis. You will acquire an understanding of Hive and Sqoop after the completion of this project.
Work on MovieLens Data for Finding the Top Movies
You will create the top-ten-movies list using the MovieLens data. For this project,  you will use the MapReduce program to work on the data file, Apache Pig to analyze data, and Apache Hive data warehousing and querying. You will be working with distributed datasets.
Hadoop YARN Project: End-to-End PoC
Bring the daily incremental data into the Hadoop Distributed File System. As part of the project, you will be using Sqoop commands to bring the data into HDFS, working with the end-to-end flow of transaction data, and the data from HDFS. You will work on a live Hadoop YARN cluster. You will also work on the YARN central resource manager.
Table Partitioning in Hive
In this project, you will learn how to improve the query speed using Hive data partitioning. You will get hands-on experience in partitioning Hive tables manually, deploying single SQL execution in dynamic partitioning, and bucketing of data to break it into manageable chunks.
Connecting Pentaho with Hadoop Ecosystem
You will deploy ETL for data analysis activities. In this project, you will challenge your working knowledge of ETL and Business Intelligence. You will configure Pentaho to work with Hadoop distribution and load, transform, and extract data into the Hadoop cluster.
Multi-node Cluster Setup
You will set up a Hadoop real-time cluster on Amazon EC2. The project will involve installing and configuring Hadoop. You will need to run a Hadoop multi-node using a 4-node cluster on Amazon EC2 and deploy a MapReduce job on the Hadoop cluster. Java will need to be installed as a prerequisite for running Hadoop.
Hadoop Testing Using MRUnit
In this project, you will be required to test MapReduce applications. You will write JUnit tests using MRUnit for MapReduce applications. You will also be doing mock static methods using PowerMock and Mockito and implementing MapReduce Driver for testing the map and reduce pair.
Hadoop Web Log Analytics 
In this project, you will derive insights from web log data. The project involves the aggregation of the log data, implementation of Apache Flume for data transportation, and processing of data and generating analytics. You will learn to use workflow and do data cleansing using MapReduce, Pig, or Spark.
Hadoop Maintenance
Through this project, you will learn how to administer a Hadoop cluster for maintaining and managing it. You will be working with the NameNode directory structure, audit logging, DataNode block scanner, balancer, failover, fencing, DISTCP, and Hadoop file formats.
Twitter Sentiment Analysis
In this project, you will find out what is the reaction of the people to the demonetization move by India by analyzing their tweets. You will have to download the tweets, load them into Pig storage, divide the tweets into words to calculate sentiment, rate the words from +5 to −5 on the AFFIN dictionary, filter them, and then, analyze sentiment.
Analyzing IPL T20 Cricket
This project will require you to analyze an entire cricket match and get any details of it. You will need to load the IPL dataset into HDFS. You will then analyze the data using Apache Pig or Hive. Based on the user queries, the system will have to give the right output.
Movie Recommendation
In this project, you need to recommend the most appropriate movie to a user based on his taste. This is a hands-on Apache Spark project, which will include performing collaborative filtering, regression, clustering, and dimensionality reduction. You will need to make use of the Apache Spark MLlib component and statistical analysis.
Twitter API Integration for Tweet Analysis
Here, you will analyze the user sentiment based on a tweet. In this Twitter analysis project, you will integrate the Twitter API and use Python or PHP for developing the essential server-side codes. You will carry out filtering, parsing, and aggregation, depending on the tweet analysis requirement.
Data Exploration Using Spark SQL – Wikipedia Dataset
 In this project, you will be making use of the Spark SQL tool for analyzing the Wikipedia dataset. You will be integrating Spark SQL for batch analysis, working with Machine Learning, visualizing, and processing data and ETL processes, along with real-time analysis of data
I am really thankful to Intellipaat for the Hadoop Architect course with Big Data certification. First of all, the team supported me in finding the best Big Data online course based on my experiences and current assignment. institution.
Thank you very much for your top-class service. A special mention should be made for your patience in listening to my queries and giving me a solution, which was exactly what I was looking for. I am giving you a 10 on 10!
The Intellipaat team helped me in selecting the perfect course that suits my profile. The whole course was practically oriented, and the trainers are always ready to answer any question. I found this course to be impactful. Thank you.
This regards to conveying my deepest gratitude to Intellipaat. The quality and methodology of this online Hadoop training were matchless. The self-study program for Big Data Hadoop training, for which I had enrolled, ticked off all the right boxes. I had access to free tutorials and videos to help me in my learning endeavor. A special mention must be made regarding the promptness and enthusiasm that Intellipaat showed when it comes to query resolution and doubt clearance. Kudos!
Intellipaat's Hadoop tutorial delivered more than what they had promised to me. Since I have undergone a previous Hadoop training course, I was quite familiar with Big Data Hadoop concepts, but Intellipaat took it to a different level with their attention to detail and Hadoop domain expertise. I recommend this training to everybody. You will learn everything from basic Hadoop concepts to advanced Big Data technology deployment. I am more than satisfied with this training. Thank you, Intellipaat!
The BIG DATA HADOOP- SPARK CERTIFICATION TRAINING is an online course with industry recognized certification from IBM and Intellipaat.
Please complete the form below and we'll contact you with the course information and pricing.