DIGITAL MARKETING CERTIFICATION COURSE​
Certificate of Completion
Intellipaat's Digital Marketing master's program is curated by experts from the top organizations in the world. The lectures and course material that are part of this program aim to help you gain in-depth knowledge of Digital Marketing and its concepts.
This course is designed to help you clear Google Analytics Individual Qualification (IQ) Certification, Google AdWords Certification, HubSpot certification exam, and Microsoft exam. The entire course content is in line with these certification exams and helps you clear them with ease to get the best jobs in top MNCs. Intellipaat's certification is well recognized in top MNCs, such as Ericsson, TCS, Cognizant, Sony, Wipro, Cisco, Standard Chartered, Tata Communication, Genpact, etc. Our main aim is to make you job-ready through demo interviews, resume preparation, and more.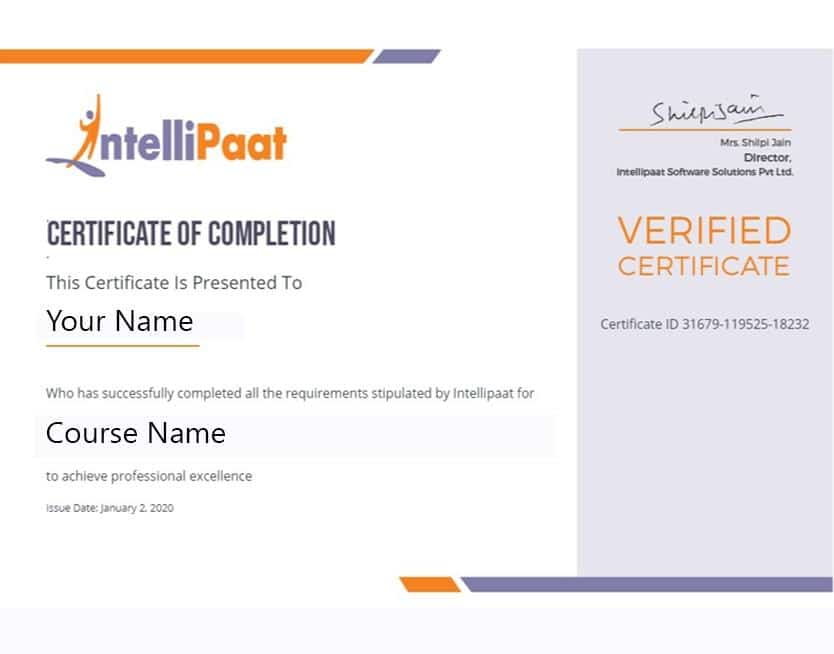 DIGITAL MARKETING CERTIFICATION COURSE
Our Digital Marketing master's program will help you gain full proficiency in Digital Marketing skills like search engine optimization (SEO), search engine marketing (SEM), Google Analytics and web analytics, social media, content marketing, email marketing, etc. Besides, you will have lifetime access to the course, along with 24/7 support and placement assistance to land your dream Digital Marketer job. You will work on multiple projects and case studies during this course.
In this Digital Marketing course, you will master the core concepts, coupled with various tools and technologies, in Digital Marketing. These concepts include SEO auditing, pay per click, web analytics, social media strategy and planning, mobile advertising, content creation and marketing, elements of email marketing, Digital Marketing strategy, etc.
The trainers of this Digital Marketing course were extremely knowledgeable and experienced. They were able to explain all the concepts in detail, which was beneficial, especially for a beginner like me. Besides, the courseware shared was very helpful. I was easily able to revisit the topics in which I had confusion, and I could revise them with no difficulty.
So far, this was one of the best Digital Marketing master's programs I have ever seen online. I recently finished this course from Intellipaat, and I was more than satisfied. They provided great job support in terms of conducting mock interviews, helping me update my resume, etc. This helped me prepare for job interviews and eventually land a high-paying job.
In this Master's in Digital Marketing online program, I was able to work on numerous industry-specific projects and extremely helpful case studies. These helped me gain practical knowledge of the concepts I had learned, coupled with hands-on experience and confidence to work in real-world scenarios. This allowed me to understand the concepts better and improve my knowledge.
The DIGITAL MARKETING CERTIFICATION COURSE is an industry recognized online certification course.
Please complete the form below and we'll contact you with the course information and pricing.