Certificate of Completion
Upon completion of this Program, you will receive certificates from Skillcubator Training Institute. This certificate will testify to your skills as an expert in data analysis. You may also claim CDUs from IIBA towards any of the certification, which you are planning to take or have already taken and need to apply CDUs as part of re-certification process.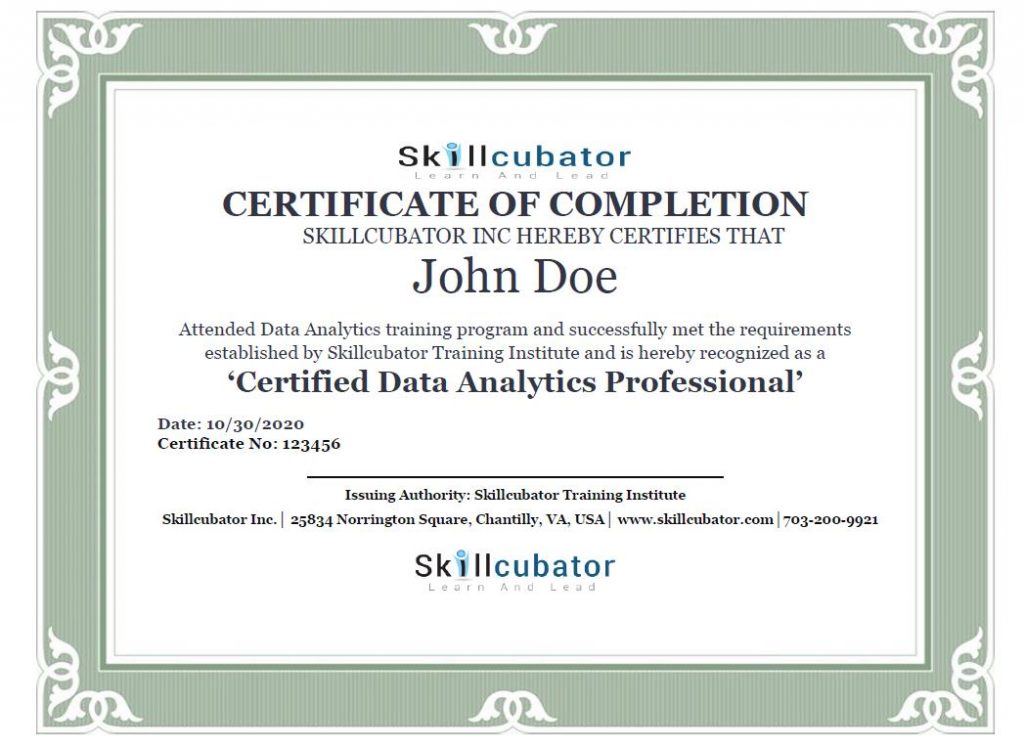 ABOUT THE DATA ANALYTICS PROGRAM
During the last ten years, we have seen tremendous explosion of data in all sectors, private as well as public. This exponential growth in data has transformed all verticals such as finance, healthcare, manufacturing, retail, telecom, energy etc. With the advent of huge sets of data created every second, the ability to translate this huge amount of data into actionable insights has been a huge challenge for organizations, creating a huge demand for professionals who can turn that data into actionable insights that improve processes and drive company's growth.
Skillcubator's Data Analytics training and placement program will empower you to gain the knowledge and skills to conduct robust data analytics. Throughout the course, students gain proficiencies on numerous marketable technologies, including basic and advanced Microsoft Excel, Structured Query Language (SQL), Tableau, Power BI and more. Plus, students leave with an impressive professional portfolio and the confidence to succeed in the data-driven economy. The program is rigorous, fast-paced, and focused on the practical technical skills needed to solve data problems.
This program is designed to give you the flexibility you need to balance your work-life schedule by providing you with the structure and support you need to be successful in achieving your career goals.
Is This Program Right For You?
Are you a creative, curious, and ambitious professional looking to join the data revolution? If so—or if any of the following describes your situation—enrolling in our Data Analytics training and placement program could be a smart career move:
You want to switch into Information Technology field, and start your career in data analytics, data analysis or business intelligence areas.

You are currently a professional working with data but are looking to advance your career by building technical skills.

You are a manager or professional in a business where data can be used to boost your company's bottom line.

You have interests in visualizing social, consumer, or popular trends.
Real Projects, Real Jobs
Our trainees will be qualified for many different roles, such as:
Data Analyst

Business Analyst

SQL Developer

Business Intelligence Analyst

Research Analyst
Some of the salient features of our training program are as below:
What our students are saying
"I was looking for a Social Media Course to expand my career horizon. A friend of mine suggested to learn from Steve's online courses and it really worked for me."
"A fantastic and very engaging course. All of the information offered by Steve was completely practical, relevant and presented in an easy, digestible and interesting way."
"This course was a breakthrough in my knowledge of digital marketing. The content is comprehensive and of great quality, engaging and interactive."
The DATA ANALYTICS PROGRAM is an online course with industry recognized certification with live Instructor-led training sessions, recorded sessions and placement.
Please complete the form below and we'll contact you with the course information and pricing.